While attending a quilting retreat last month in Cody, Wyoming, I was introduced to the recently published book, The Fabric of Memory.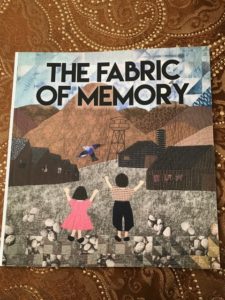 It's a great story. The Textile Artists of Greater Yellowstone decided to take on a design project featuring the experiences of Japanese-Americans interred at The Heart Mountain Relocation Center during 1942 – 1945.
After the Pearl Harbor attack, Japanese-Americans living on the West Coast were forced from their homes and sent to live at inland primitive camps. The Heart Mountain internment camp was located on a barren stretch of land outside Cody, Wyoming. Yes. Here Americans were imprisoned without due process based entirely on their ethnicity. (Check out www.heartmountain.org for more information.)
The art quilts that these textile artists created were displayed at an exhibit entitled "The Fabric of Memory" held at the Heart Mountain Interpretive Center. The resulting book captures the artistry of the quilts and the messages of pain, endurance and hope.
One might ask, "Where is there joy in the face of all of this past injustice?"
Well, I do not believe joy resides within injustice. However, one can find joy in opposition to injustice. There is joy in efforts to banish hate through love. There is joy in spreading truth.
One of the artists, Jeanne Knudsen, featured the words of Maya Angelou:
"History, despite its wrenching pain,
Cannot be unlived,
But if faced with Courage,
Need not be lived Again."
We share the stories of past injustice in order to prevent future injustice.
Injustice comes in all sizes: Large scale activities such as internment camps or human trafficking … Smaller activities such as spewing hostile Facebook posts …  All are manifestations of fear and hate.
So it comes down, as usual, to personal choice.
Fear. Joy. Hate. Love. Ignore. Educate. What will you choose?
Where will you oppose injustice? And that's where you will find joy.