Sixteen months ago, I left my corporate job. I made The Escape. It was time.
Mostly, I've rested. I've allowed myself not to worry so much. I've avoided deadlines like the plague.
This has been a precious gift of time. I've been able to spend more time with family and friends.
And like my friend Diana's favorite mule, I'm feeling pretty good.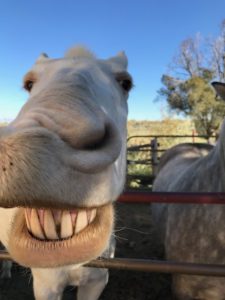 At first, corporate retirement didn't feel real. It was more like a sabbatical. I kept thinking about what I'd be doing next. Should I work at this place or that place? After all, I'd been a full-time student and/or employed for the past 60 years. There was this nagging feeling that I wasn't doing enough – that I wasn't being enough.
Fortunately, I moved on to feeling ok about my new life. More and more I am savoring each day. I love spending more time with the people I love. It is so satisfying to have more time to write and create my stuff.
So, I will share some of what I've learned so far:
Linda's Tips for Transitioning into Life After the Day Job
Make a list of everything you've wanted to do once you quit the Daily Grind. Then put it away in a drawer under your sweaters where you'll find it in a year or so. At that point, you'll be amused at all your unrealistic ambition.
Unplug the alarm clock. Sleep. Sleep. Sleep. Get up when you feel rested.
It's fairly normal to miss that sense of value that you had derived from the Day Job. Most of us have been conscientious producers who over time built up expertise which was recognized and rewarded accordingly. Now, it's gone. I found it helpful to install myself as CEO and sole owner of my new start up – Linda: The Next Phase, Ltd. I give myself frequent accolades. Modesty prevents me from saying how many.
Find your own pace. Slowing down is ok. In fact, slowing down will improve your health. You can actually take time to shop, to read, to cook, to exercise, to enjoy your hobbies, whatever. Like scads of retirees before me, I now also say, "I don't know how I had time for work with all of the things I'm doing now." Of course, I know the answer: I didn't sleep enough, I rushed through everything and there was very little time for relaxation.
Keep a social calendar. Make sure to spend time with friends and family. Don't be a hermit. If needed, go find some new friends. (If that's a problem, call me for some coaching.) Find the social balance that works for you.
Practice gratitude. Time after the day job is a gift. Get up every morning, give yourself a hug and celebrate another day of living.
In summary, in this endeavor as in all others, begin from a place of joy. You've got this.