What a special memory. I watched these 5 year-olds express wonder and excitement at the beginning of the 4th of July fireworks over Glen Lake, Michigan.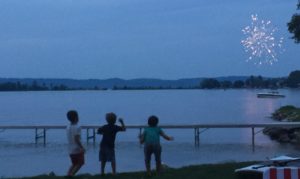 They were dazzled by the display. Hopefully, the beginning of a life time of dazzling experiences.
I got to thinking about the word "dazzle".
Like the fireworks above, it can mean to arouse admiration by an impressive display. In that sense, we can dazzle others with our wit and brilliance. Nothing wrong with being entertaining. But after a while the energy required to maintain this outward show can become exhausting. Just thinking about the effort makes me want to take a nap. One needs to rest and refuel after a performance.
However, dazzle can also mean to shine brilliantly. In this sense, dazzle is not about the outward show, but about one's life values. To my way of thinking, this kind of dazzle can be the result of authentic living. A person focused on purpose, gratitude, love and joy will just naturally shine, possibly even shine brilliantly. So to seek to live a shining life is to live in a dazzling way.
Living with Dazzle could be your life's path. But like most adventures, it requires leaving one's comfort zone and one may experience the fear of the unknown. This is the number one reason people choose to remain with the discontent of unfulfilled living.
Recently, a friend shared the following poem contained in The Leaning Tree by Patrick Overton.
When you walk to the edge
Of all the light you have
And take that first step into the darkness of the unknown,
You must believe that one of two things will happen:
There will be something solid for you to stand upon, or
You will be taught how to fly.
Overton asserts that when you move out of your comfort zone, it will be ok. You will find a way to move forward – either on the ground or in the air.
This has been my experience. It can be yours.
Do you wish to move from Living with Discontent to the adventure of Living with Dazzle? I invite you to follow the Path of Your Heart and experience the gift of Living with Dazzle.
Why not start today?