Remember Zoltar?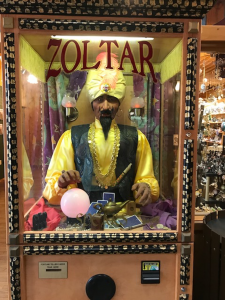 Back in the day, Zoltar was to be found in arcades and other amusement places. Insert your coins, Zoltar would shuffle his cards and your printed fortune would emerge from the bottom left slot. No more worries. Zoltar had provided clear direction for your future.
Alas, there is no Zoltar to give guidance during the current pandemic. Therefore, government leadership is making their best judgments based on the information at hand.
Generally speaking, most of the world is being divided into 2 groups: essential and non-essential.
Grocery stores are essential. Clothing stores and thrift shops are non-essential.
Liquor and cannabis stores are essential. Most of my favorite retail haunts are non-essential.
Restaurant counter and delivery personnel essential. Waiters are non-essential.
Emergency rooms are essential. Elective surgery is non-essential.
The list goes on with many state and local government variations.
So, our government leaders have decided what is essential during this shutdown. Food, shelter, medical care and safety are usually the underlying determinants.
To be clear, this post is not about the merits of these determinations. I do believe that these executive orders are intended primarily for citizens' physical health protection. They are intended to lessen the possibility of the massive loss of life that can be caused by an unchecked viral contagion.
But I have been pondering lately about what is truly essential. Yes, adequate food, shelter and physical safety are critical. But support for our psychological and spiritual self is also essential. This cannot be ignored.
Consider these questions:
What is essential to you?
What is essential to support your sense of well-being?
I would urge you to take time and carefully consider these questions and your answers.
After sheltering in place for almost 2 months, I am very clear that electronic communication (while better than nothing) is a poor substitute for physical presence. Hugs, body language, sharing time and space – these are essential for me. I need to be in the same room with my various social groups as I celebrate, worship, work and play. This is essential to my well-being.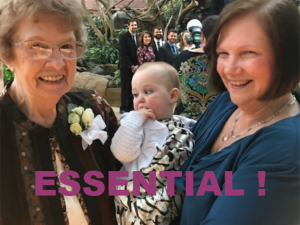 All of the wonderful technology that allows me to stay in touch with family and friends helps me cope, but it's not the real McCoy. When this current shut down ends, I plan to be even more intentional about attending social functions. And I bet I'm not the only one.
So what is essential for your own well-being?
Zoltar says: "Find your answers and live accordingly."