Is this how your calendar looks?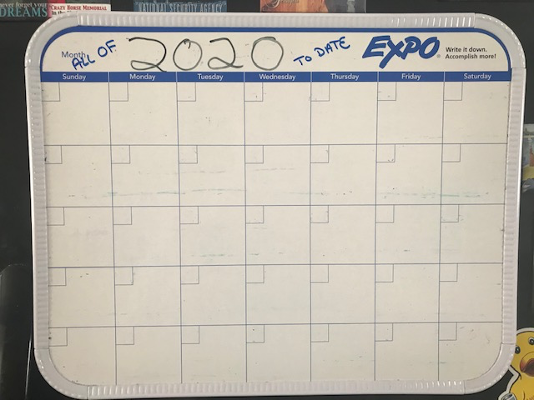 Do you believe that 2020 has been a colossal waste of time? That you can't do anything? That you can't wait until this year is over?
Actually, while our general frustration might make us think that nothing has happened, this is just not true.
First of all, shutdowns didn't begin until March so most of us were living the "normal" for at least the first 2 months.
During the shutdowns we kept doing things – we commuted to work, we worked at home, we dealt with lay-offs … we continued to live with others or by ourselves – we have continued.
Yet, for most – things are very different. Activities have changed. Netflix instead of movie theaters. Zoom calls instead of family visits. Trips to state parks rather than trips to Europe. Group activities canceled.
Our calendars do seem emptier. Binge-watching TV series and movies has become the national pastime.
Perhaps, we've lost sight of our sense of purpose. Many complain of a general malaise.
Here's the thing … our lives do have meaning. Each life has a unique purpose.
A sense of purpose is a good thing. Medical experts have asserted that people with a sense of purpose live healthier lives. Those with a strong sense of purpose are less likely to suffer from heart ailments, dementia, and stroke.
Having a reason to get up every morning imbues joy into our days.
Perhaps, the purpose for the year 2020 is to clarify the need for each of us to make this choice:
To drift along lost in the aimless fog of meaninglessness and despair, OR
To live each day with purpose.
It's your choice. No one else can make it for you.
So … What is your purpose? What brings meaning to your life?
Find it. Focus on it. Fill up your calendar with those things that align with your purpose.
Today is a good day to begin living with a renewed sense of purpose.
Today is a good day to claim your joy.
There is a popular series of TV ads featuring fellow George Washington High School (Charleston, WV) alumna Jennifer Garner asking "What's in your wallet?" In the same vein, I now ask:
What's on your calendar?